ENT Head & Neck Surgeon 

(DLO, FAGE)
Trained in Facial Aesthetic Surgery
Member of AHRS & ISFARO
Trained in Many sub specialties and became a member of American Academy of Aesthetic Medicine (AAAM), Indian Hair restoration Surgeons association
Attended National and International programs all over the world

Presented series of papers on Hair restoration at State, national and International Levels

In Slovenia, he has participated in plastic surgery course(Facial and Body Surgery Preceptorship)

His aim is to bring facial cosmetic procedures to the reach of an ordinary man at Higher Standards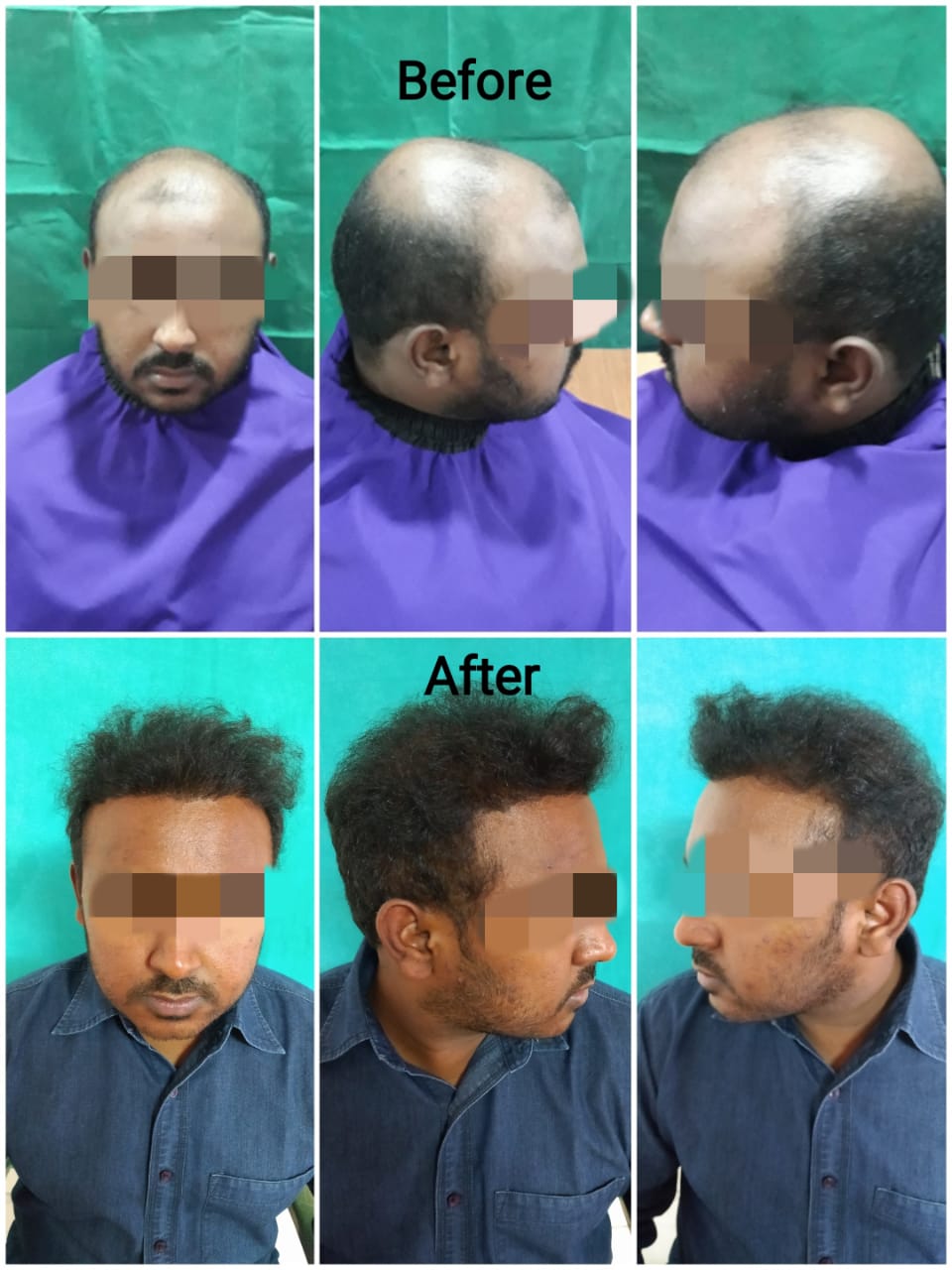 Hair Transplant Surgery Videos
 Dr. Raju Hair Transplantation and Restoration Center is a Visakhapatnam-based hair transplantation centre that is run by Dr P.L.N. Raju, a renowned ENT Head and Neck surgeon, who graduated from JJMMC KUVEMPU university in 1996 and P.G (D.L.O) in M.A.H.E in 2000. He was immensely trained in Micro / Endo / Macro Scopic procedures and worked with eminent surgeons of India. His passion for surgery led him to perform thousands of surgical procedures. In 2012 he upgraded himself into Cosmetology. Dr Raju got trained in many subspecialties and became a member of the American Academy of Aesthetic Medicine (AAAM) Indian Hair Restoration Surgeons Association. Attended National and International Training programmes under the guidance of Eminent Surgeons all over the World. In 2015.
He started the institution DREAMSS & Dr. Raju Hair Transplantation and Restoration Center through which he has achieved World Class Results. He presented a series of papers on Hair Transplantation at State, National and International Level. To procure good knowledge and Hands-on Experience. In Slovenia, he has participated in Plastic Surgery course (FACIAL and BODY SURGERY PRECEPTORSHIP). His aim and target are to bring Facial Cosmetic Procedures to the reach of an ordinary man and the results at Higher Standards.  
The clinic is located centrally in Venkojipalem, a prominent locality in the city. It stands close to Near Hanuman Temple, which not only makes it convenient for people from the vicinity to consult the doctor but also for those from other neighbourhoods to seek medical guidance. There is no dearth of public modes of transport to reach the clinic from all major areas of the city.
Our Clinic is equipped with world class technology that provide a high precision treatment. We understand the holistic needs of clients in terms of looks, comfort, durability which gave us an excellent experience in creating natural looking hairlines with healthy roots by our expertise over 7 years. Our patients experience noticeable and lasting results, that brings back confidence in those who lose hope in oneself due to hair loss and balding.
 Our major services include
Hair transplantation is a surgical technique that removes hair follicles from one part of the body, called the 'donor site', to a bald or balding part of the body known as the 'recipient site'. The technique is primarily used to treat male pattern baldness.
This procedure is called follicular unit transplantation (FUT). Donor hair can be harvested in two different ways: strip harvesting, and follicular unit extraction (FUE).
Micropigmentation, also known as permanent cosmetics, is the process of inserting colored pigments just beneath the skin's surface. The process is similar to tattooing. Micropigmentation is most often used on your face – to enhance eyebrows, eyelashes, eyelids (as eyeliner) and lips and to improve or replace lost coloring on your skin.
In this minimally invasive procedure, grafts containing hair follicles that are genetically resistant to balding (like the back of the head) are transplanted to the bald scalp. Hair Restoration can also be used to restore eyelashes, eyebrows, beard hair, chest hair, pubic hair and to fill in scars caused by accidents or surgery such as face-lifts and previous hair transplants.
Reduction of unwanted Hair
The primary principle behind laser hair removal is selective photothermolysis (SPTL), the matching of a specific wavelength of light and pulse duration to obtain optimal effect on a targeted tissue with minimal effect on surrounding tissue.
Laser hair removal has become popular because of its speed and efficacy, although some of the efficacy is dependent upon the skill and experience of the laser operator, and the choice and availability of different laser technologies used for the procedure.
Artificial hair Systems, more commonly known as hair extensions or hair weaves, add length and fullness to human hair. Hair extensions are usually clipped, glued, or sewn on natural hair by incorporating additional human or synthetic hair. These methods include tape-in extensions, clip-in or clip-on extensions, fusion method, weaving method.
Laser skin lightening is a procedure that uses high-energy light to remove irregular, damaged skin cells and stimulate the growth of new skin cells; thus, giving you a lighter and younger looking skin. It is commonly done in a clinic by a qualified dermatologist or plastic surgeon.
Laser skin lightening can be used to effectively treat various skin problems, such melasma, wrinkles, age spots, acne marks, uneven tone, and dark spots. It is also known as laser peel or laser skin resurfacing.
Tattoo Removal With Lasers
Lasers remove tattoos by breaking up the pigment colors with a high-intensity light beam. Black tattoo pigment absorbs all laser wavelengths, making it the easiest color to treat. Other colors can only be treated by selected lasers based upon the pigment color. The color of your skin, as well as how deep the tattoo pigment goes, will also affect the removal technique.
Rhinoplasty
Rhinoplasty commonly known as a nose job, is a plastic surgery procedure for altering and reconstructing the nose.
There are two types of plastic surgery used – reconstructive surgery that restores the form and functions of the nose and cosmetic surgery that changes the appearance of the nose.
Rhinoplasty may remove a bump, narrow nostril width, change the angle between the nose and the mouth, or address injuries, birth defects, or other problems that affect breathing, such as a deviated nasal septum or a sinus condition.
Blepharoplasty
Blepharoplasty is the plastic surgery operation for correcting defects, deformities, and disfigurations of the eyelids; and for aesthetically modifying the eye region of the face.
Often used for restoration of the correct functioning to the affected eyelid(s) and the restoration of the aesthetics of the eye-region of the face, which are achieved by eliminating excess skin from the eyelid(s), smoothing the underlying eye muscles, tightening the supporting structures, and resecting and re-draping the excess fat of the retroseptal area of the eye, in order to produce a smooth anatomic transition from the lower eyelid to the cheek.
Face Lift
A facelift, technically known as a rhytidectomy is a type of cosmetic surgery procedure used to give a more youthful facial appearance. There are multiple surgical techniques and exercise routines. Surgery usually involves the removal of excess facial skin, with or without the tightening of underlying tissues, and the redraping of the skin on the patient's face and neck. Surgical facelifts are effectively combined with eyelid surgery (blepharoplasty) and other facial procedures and are typically performed under general anesthesia or deep twilight sleep.